Scholarship
---
CFMA of Massachusetts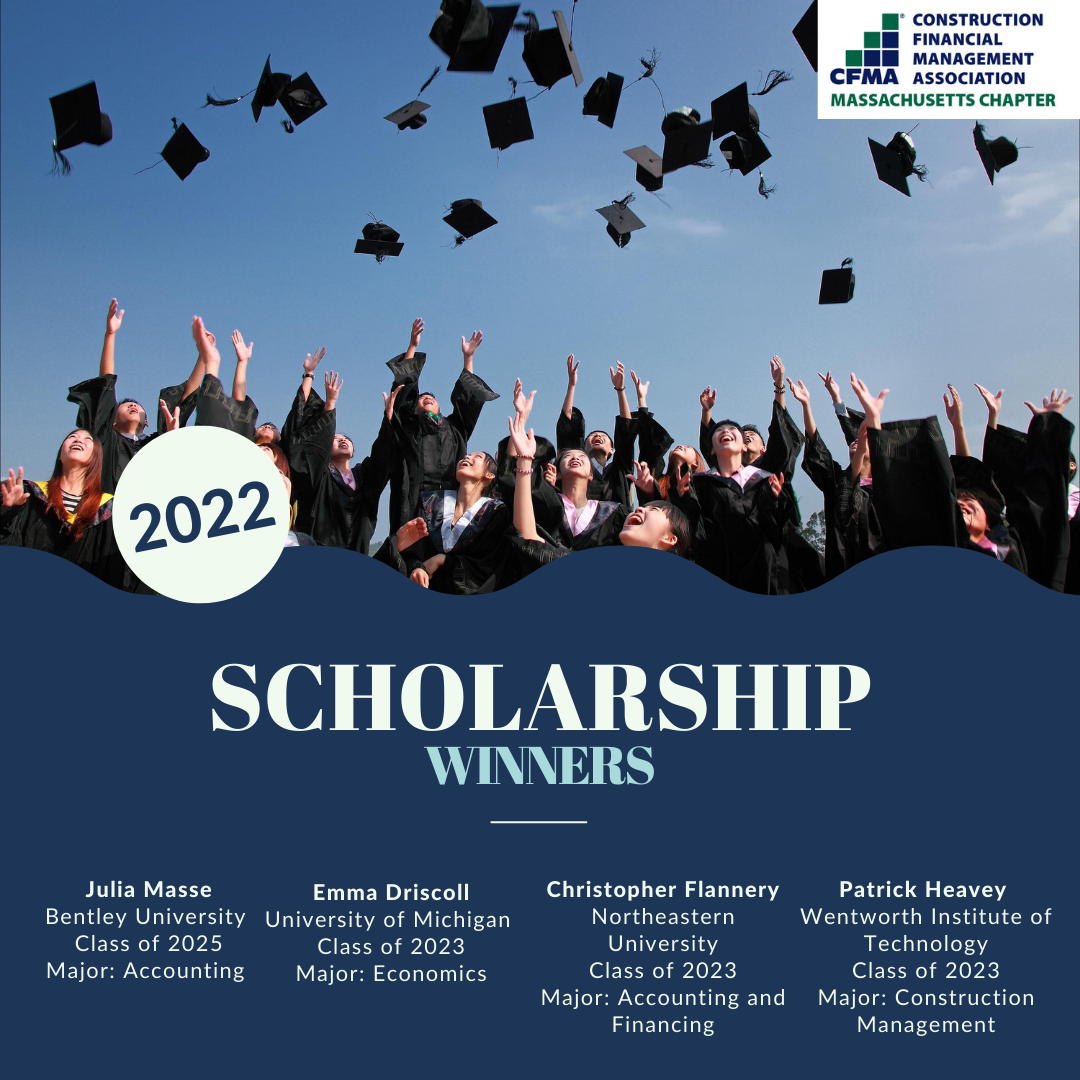 Scholarship Program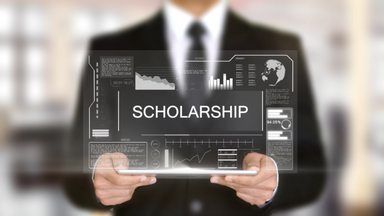 CFMA of MA has established a scholarship program to assist CFMA members, their sons and daughters and CFMA member co-workers (including co-op students who are employed by January 1st of each year) who are pursuing an undergraduate degree in the field of Accounting or Finance, Engineering, Architecture or Project Management.

A minimum GPA of 2.75 on a scale of 4.0 is required. It is also required that the applicant submit an application (attached), an essay outlining their reason for pursuing a career in the above fields, transcripts of the students grades and two letters of recommendation with one letter from a teacher or professor and the other letter from an employer or personal (non-relative) reference.

Consideration will be given to students pursuing a career in the construction industry, or who have been employed in the construction industry either through summer employment or cooperative education programs. These awards are intended to assist the student with the cost of tuition and are to be used solely for this purpose, as well as an enticement for them to consider full-time employment in the industry upon graduation.

These scholarships are for tuition only and range in dollar value from $500 to $2,500 per scholarship. Total annual scholarships awarded by the Board shall not exceed $10,000. The application deadline is April 29, 2022.

Download the Application

If you have any questions regarding the application, please do not hesitate to contact Gregory Steele at gsteele@constructionriskpartners.com.
_________________________________________________________________________________________________________________________________________________________
Congratulations to our CFMA of Massachusetts 2021 Scholarship Recipients!
Please join us in congratulating the following 2021 CFMA of Massachusetts Scholarship recipients on their outstanding personal and scholastic achievements:
Emma Driscoll, University of Michigan
Emma recently completed her freshman year at the University of Michigan, majoring in Economics & Finance. Emma has done a great job immersing herself in extracurricular activities at UofM, while also achieving a very impressive GPA. Emma has had an appreciation for the Real Estate industry from a young age and hopes to carry this passion into a career in the RE field post-college. She has a passion for community service, including tutoring young children in her spare time. Last summer, she worked for Eversource Energy.
Christopher Flannery, Northeastern University
Chris recently completed his sophomore year at Northeastern University, where he is majoring in Accounting & Finance. He has achieved a strong GPA and has already built quite a resume working as an intern at Marr Companies in Summer 2019 and as a Reconciliation Analyst Co-Op at GMO Investment and Asset Management since January 2020. He is an avid hockey player and is actively involved in the community in his spare time. Another fun fact, he spent a semester studying abroad in Rome, Italy.
Julia Masse, Bentley University
Julia recently completed her Senior year at Middleborough High School, earning a super impressive GPA of 3.97, and ranking 4th in her class of 200! She will be attending Bentley University in the fall where she will be majoring in Accounting. She was a three-sport varsity athlete and has extensive extracurricular activities and a community involvement list. This includes volunteering for the Sacred Heart Church, Challenger Baseball League, and the Special Olympics.
Lydia Masse, Worcester Polytechnic Institute
Lydia is a rising senior at WPI, majoring in Biomedical Engineering. In addition to being a top scholar, she is very involved with extracurricular activities at school including Women in Engineering, Engineering without Borders, and Promotion of Animal Welfare Society. This past summer, she was an Engineering intern at the Plymouth Grating Laboratory. Her role was to support very complex manufacturing, testing, and analysis of diffraction gratings in a cleanroom environment. In her spare time, Lydia is an avid runner and animal lover.
Lindsay Trask, Rensselaer Polytechnic Institute
Lindsay recently completed her freshman year at Rensselaer Polytechnic Institute, where she is majoring in Civil Engineering. She has had tremendous success academically thus far at RPI. Lydia's long-term goal is to become a project manager in heavy civil engineering. She has been interested in the building environment since taking a civil engineering class the summer after 8th grade. In high school she was heavily involved in the community between the student council and key club. She is looking forward to continuing to volunteer on similar clubs at RPI.